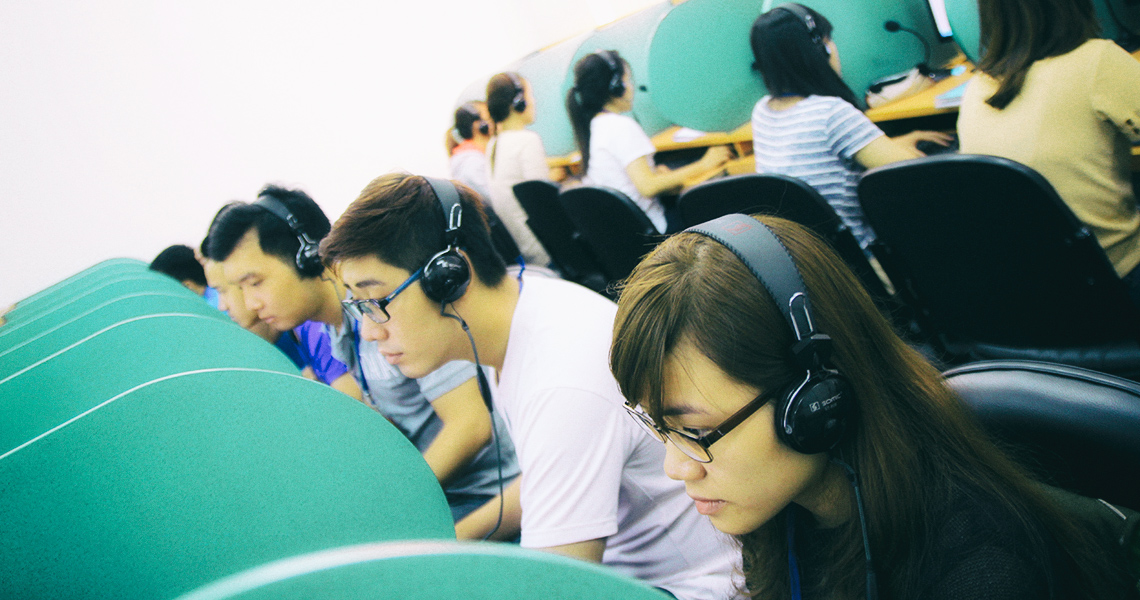 The Department of English (DE) has established itself as a prestigious academic provider of globally standardized language programs for both Vietnamese and international university students. Our ongoing mission is to ensure all students studying at the International University (IU) receive the best English language training to successfully compete in the academic environment and in the corporate world in their futures. Within one year's time of studying English with our department, the students will acquire the sufficient English fluency necessary for active study and research at the IU or at any other international institutions throughout the world.
PROGRAMS
The English programs (Intensive English and Academic English) provide a comprehensive range of English courses that will promote the students' academic integration in multidisciplinary programs offered by the IU in Vietnam, as well as other prestigious English-speaking universities throughout the world.
These programs, which comprise English courses to gradually raise the students' English competency from Pre-Intermediate to Advanced levels, focus on all the major areas of English language acquisition: academic reading skills, strategies for enhancing listening and note taking skills in lectures, techniques for effective academic presentations, skills in academic essay writing, technical and research writing, and TOEFL iBT and IELTS preparation.
Newcomers who satisfy the English language requirements (TOEFL iBT≥61, or IELTS≥6.0) will not take a placement test and can immediately join the IU mainstream courses. Based on the results of the placement test, the students who fail to meet the English language requirements are required to take the intensive English courses, IE1 or IE2, accordingly before studying their mainstream courses.
Besides the required English courses, free support is given to students through various services and activities: Film Club (FC) & English Speaking Club (ESC), Language Lab, and Writing Center.
RESEARCH ORIENTATION
Our research focuses on developing and implementing new teaching methods to boost the effectiveness of students' study habits in courses conducted entirely in English. Our goal is to ensure that students attain the required competency and fluency of English in the shortest time possible.
Areas of our research interest include:
Writing academic English
The acquisition of academic vocabulary
Assessing spoken language performance
Developing critical reading approaches
Computer-assisted language learning
Project-based learning
The influence of L1 on the acquisition of English as a second language
Listening and note-taking strategies
PUBLICATIONS
TEACHING STAFF
The members of DE make up a specialized collection of well qualified and talented lecturers sourced from within Vietnam as well as from abroad, i.e., the United States. Our staff have attained master's degrees in applied TESOL or applied linguistics, and some of us hold doctoral degrees in linguistics or Higher Education. Our diversity and expertise enables our department to design and develop the innovative curriculum and methodologies to better serve IU students.
CONTACT INFORMATION
Department of English
Room O1 – 510
Telephone: (028) 37244270. Ext: 3234
Website: http://english-dept-en.hcmiu.edu.vn