The champion of Mastermind 2018, The Creative Concept Contest, be unveiled
More than 4 months since launching, the organizer has got the winning team of The Creative Concept Contest – Mastermind 2018. The competition is also one of the activities in the celebration of the 15th Anniversary of International University – Vietnam National University Ho Chi Minh City (IU). The Mastermind 2018 is organized by International University, with the sponsor from Nam A Commercial Joint Stock Bank (Nam A Bank) and the Architects & Construction Service Corporation (ACSC).
With the theme of "CREATIVE START-UP IN INDUSTRY 4.0 CONTEXT," the contest attracted more than 20 teams and individuals from schools within the city. For the purpose of career orientation and encouragement for starting-up and developing creative ideas, the IU's contest provides students with opportunities not only to develop their own skills, but also to explore new experience and knowledge needed for their career.
The final round was held on 18/10/2018 at Conference Center 272 (272 Vo Thi Sau, Dist. 3). The result, the Blocky team's "IOT Blocky" (including students from the International University and the University of Economics) wins the first prize, worth VND 30.000.000. The idea promotes products on the IOT background which is simplified and user-friendly. The team Banana with the idea of Fashionista App (including students from RMIT University) won the second prize, VND 15.000.000. S-Hub team (including students from HCMC University of Science and University of Economics and Law) won the third prize with the product on the system of information providing and supporting, VND 5,000,000. The Intersection team from the University of Economics won the consolation prize of VND 3,000,000 with the event management app – Event Technology. The individual prize was awarded to Nguyen Van Thuan – student of HCMC University of Technology and Education, with the reward of VND 2,000,000 for software applications providing equipment for travelers – App for Travelers.
Dr. Ho Nhut Quang – Vice-Rector of International University – offering flowers to the juries of Mastermind 2018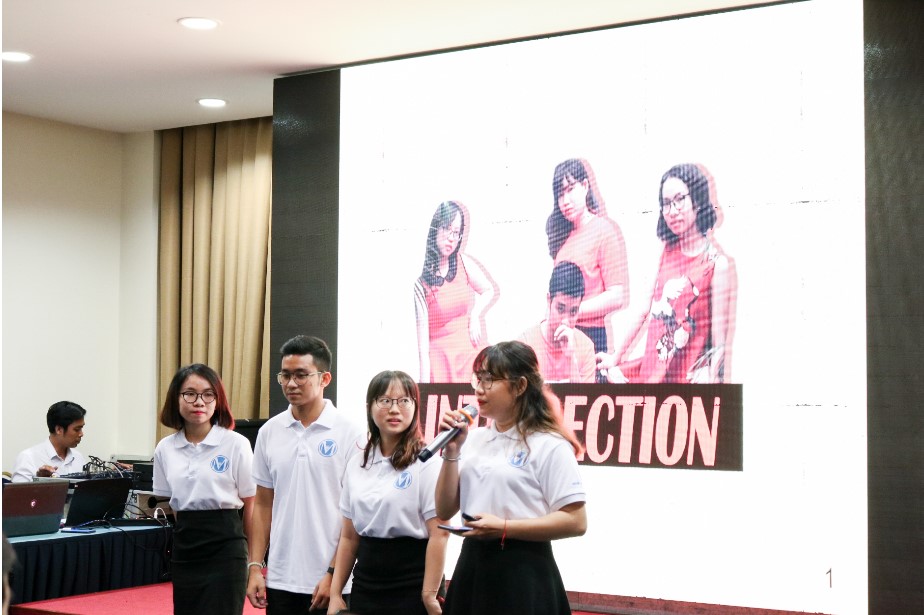 A team is presenting their ideas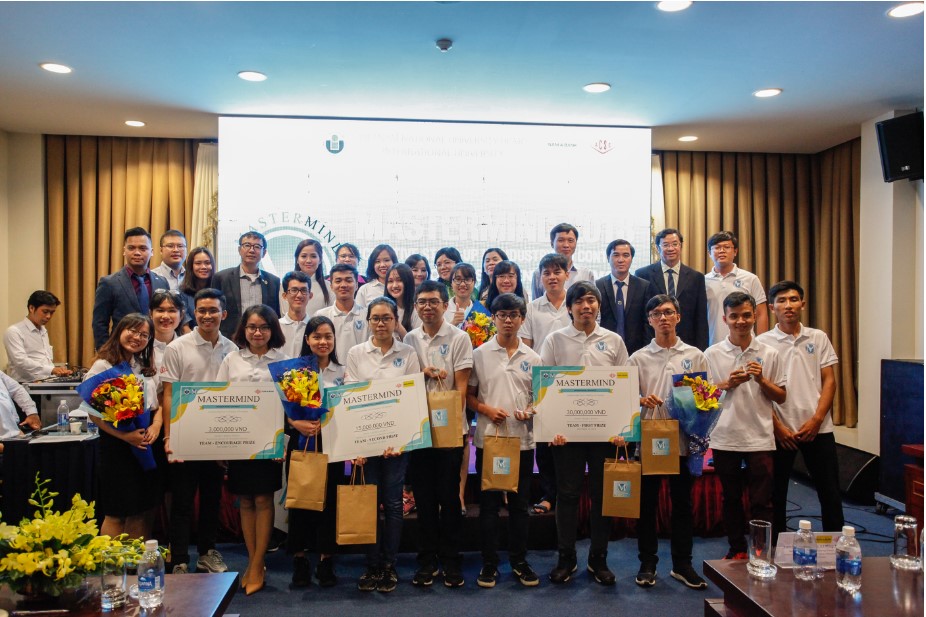 The teams are taking photo with the Organizer and Jury Committee.