Faculty and Staff Meeting 2018 – The Year of Innovations
On December 28, 2018, International University (IU) – Viet Nam National University Ho Chi Minh City (VNU-HCM) held the Faculty and Staff Meeting 2018. At the meeting, IU has seriously evaluated its performance and achievements, clarified limitations and weaknesses. as well as pointing out solutions for the new year 2019. Assoc. Prof. Huynh Thanh Dat – Director of VNU-HCM – also attended the Meeting.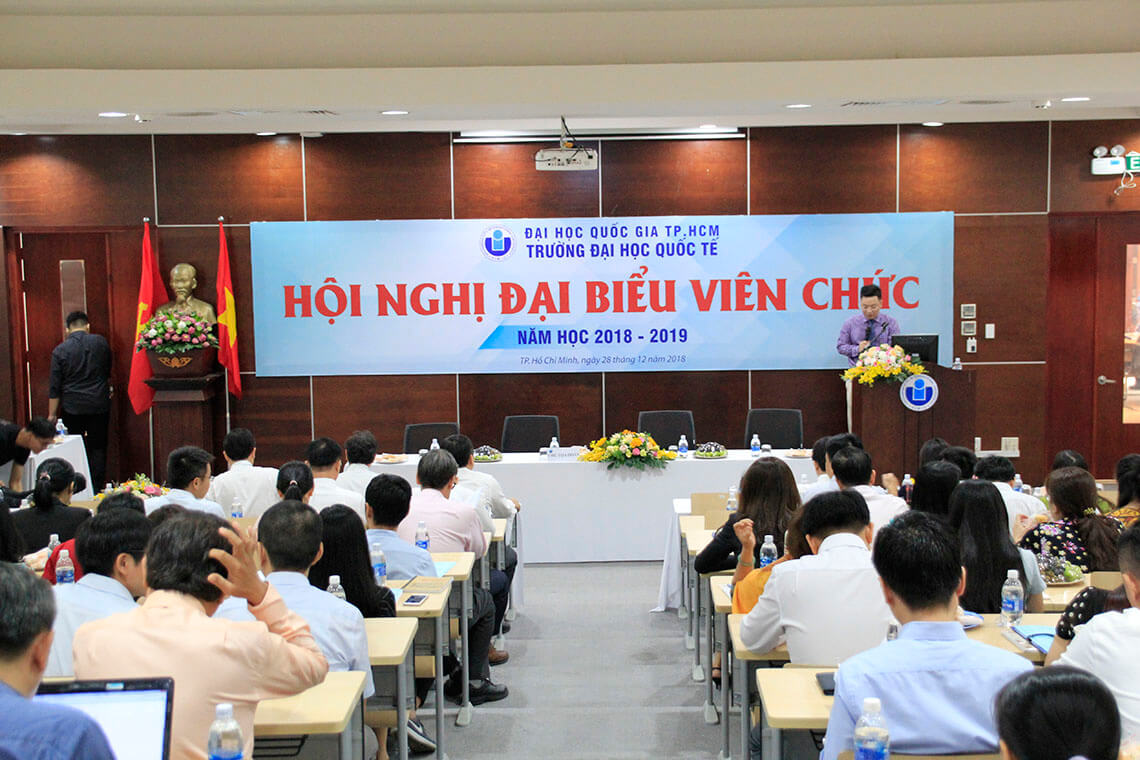 The meeting was held on 28 December 2018 in a warm atmosphere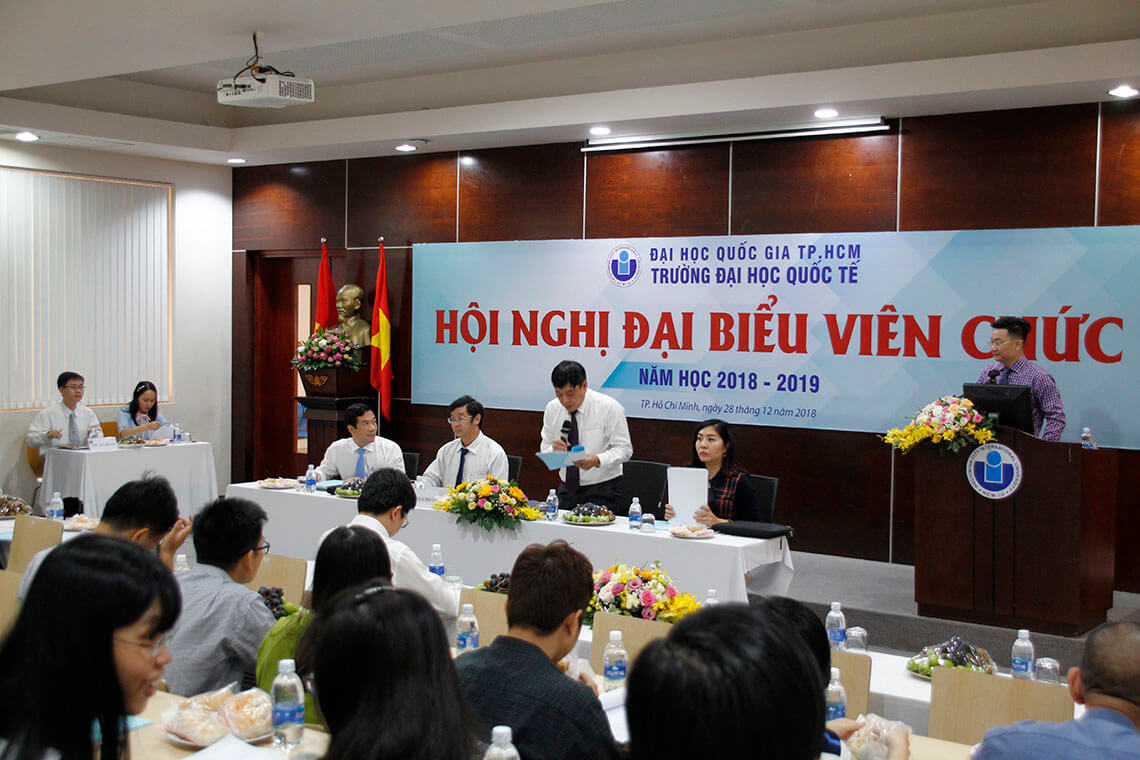 The meeting board is presenting report on 2018 activities
At the opening of the meeting, a meeting board has been elected for presenting reports of school's activities in the 2017-2018 academic year. In the report, Dr. Tran Tien Khoa – Rector of International University – affirmed the achievements in the last school year. As a member of VNU-HCM, International University is the first public university to use English in teaching and researching. Currently, with 7,605 undergraduate students and 765 post graduate students, IU is gradually setting its status as a leading research-oriented university in Vietnam. In the 2017-2018 school year, the school has completed many important and outstanding goals, including the implementation of quality assessment at institutional level as of AUN standards and the accreditation of ABET on engineering programs. Scientific researches have been transferred to many provinces, the rate of ISI journals/Doctor is maintained at 0.8. In 2018, more than 26,000 admission applications have been sent to IU, with than 4,700 successful admitted candidates and more than 2000 students enrolled for studying.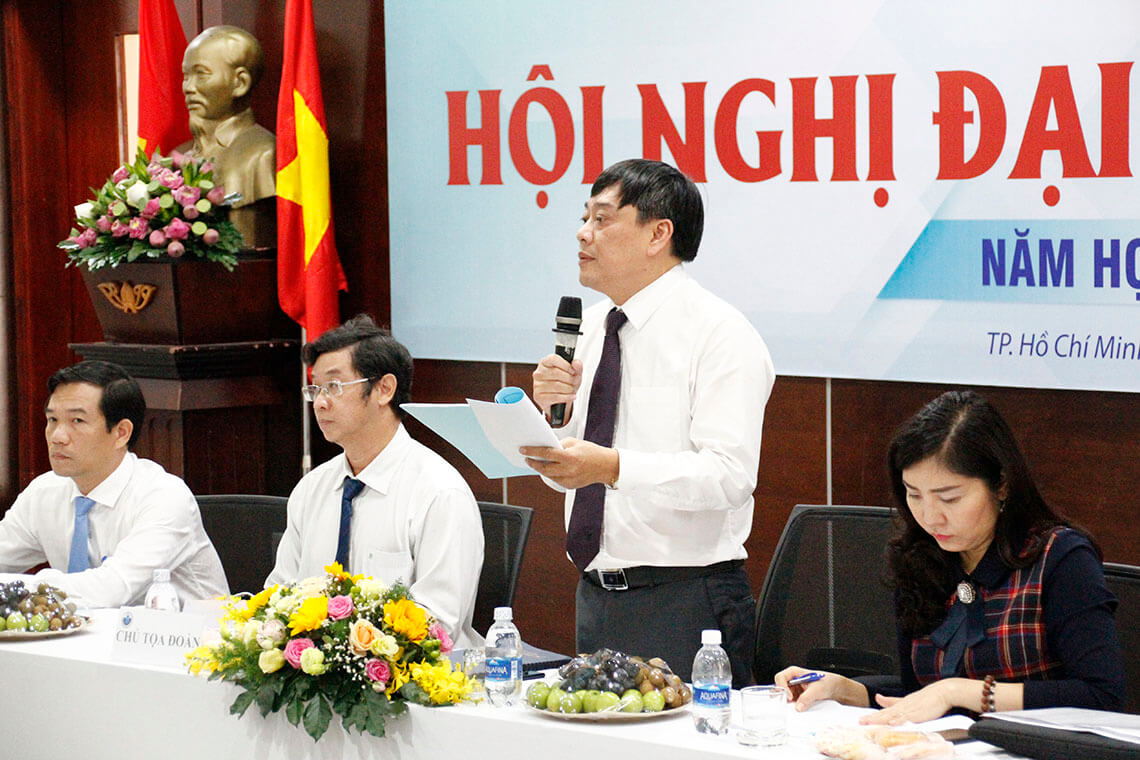 Dr. Tran Tien Khoa is presenting at the meeting
Assoc. Prof. Huynh Thanh Dat, Director of VNU-HCM, is presenting at the meeting
2018 is also the year when International University had made many changes in management. In particular, IU has got new Rector as well as Vice-Rector. The school also restructured its organization and units, such as separating several offices into functional units: including the division of the Office of Human Resources into the Office of General Administration and the Office of Human Resources Management; the Office of Facilities Development is divided into the Office of Facilities Development and the Office of Procurement Services. New offices have also been established including Office of International Academic Cooperation, Office of Inspection and Legal Affairs, Center of Higher Training and Research in Public Administration. Besides, IU has merged the Center for Technology Incubation and Startup into the Center of Research and Technology Transfer. In addition, IU has established many Departments within Schools such as Department of Chemical Engineering, Department of Electronics, Department of Telecommunications, Department of Control Engineering and Automation, Department of Network Engineering and Department Computer Science.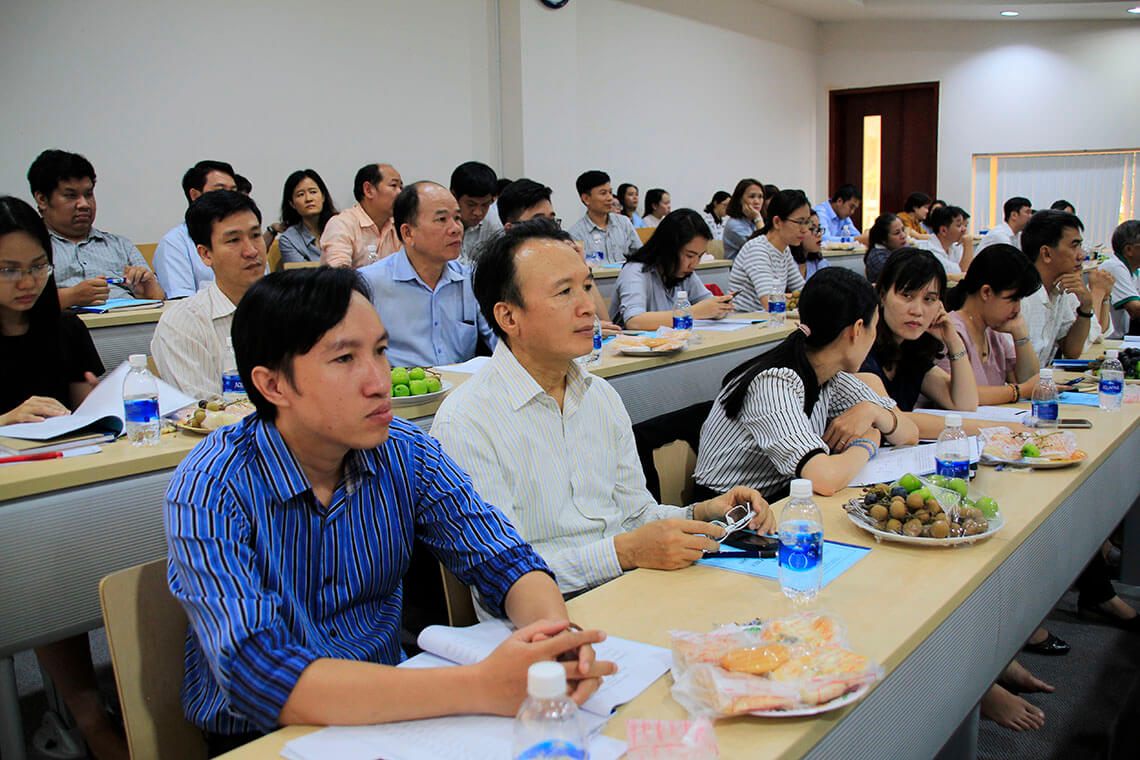 Attendees are listening attentive on the reports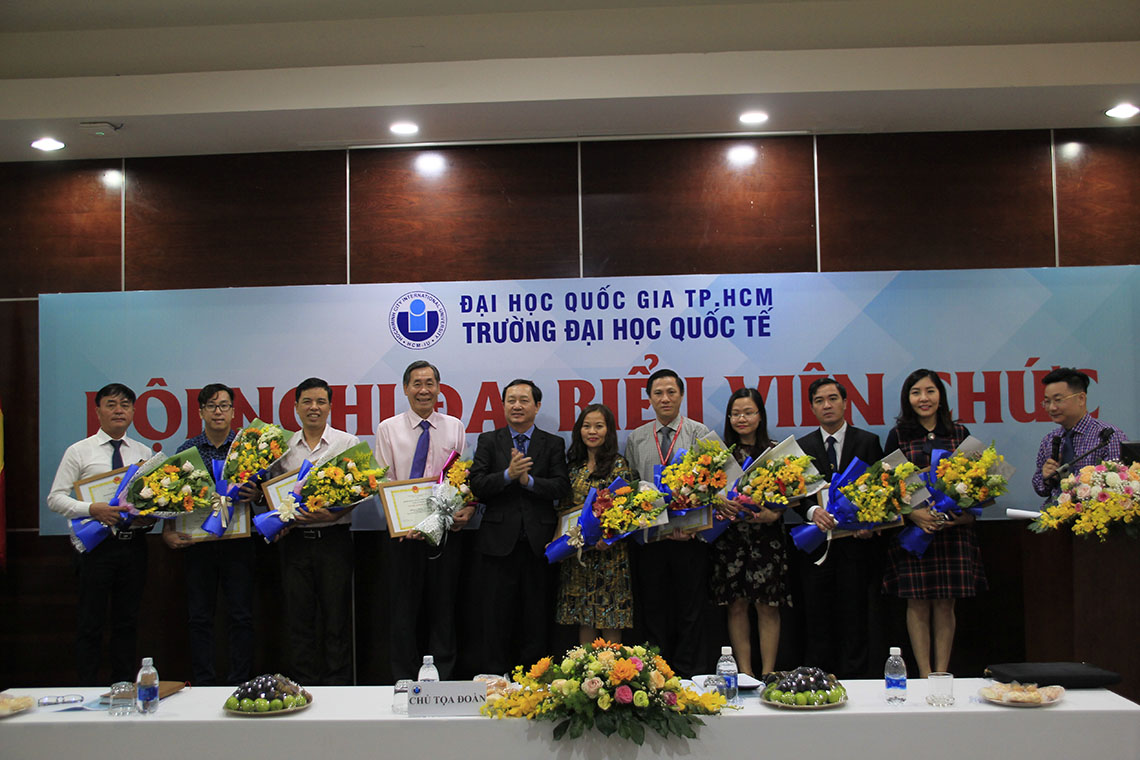 Assoc. Prof. Huynh Thanh Dat, Director of VNU-HCM, is presenting Certificates of Merit for outstanding units and individuals
Also in the past year, IU had the honor of having two lecturers to be awarded for reputational scientific research worldwide and nationwide. Dr. Nguyen Thi Hiep – Head of Biomedical Engineering – won the International Award L'Oréal-UNESCO for Women in Science – International Rising Talents and Assoc. Prof. Pham Van Hung won the Ta Quang Buu award in 2018. IU has also got approval from the Ministry of Science and Technology to implement worth 2 billion dong, signed 8 new contracts with the NAFOSTED Fund, with the total value of more than 7.5 billion dong.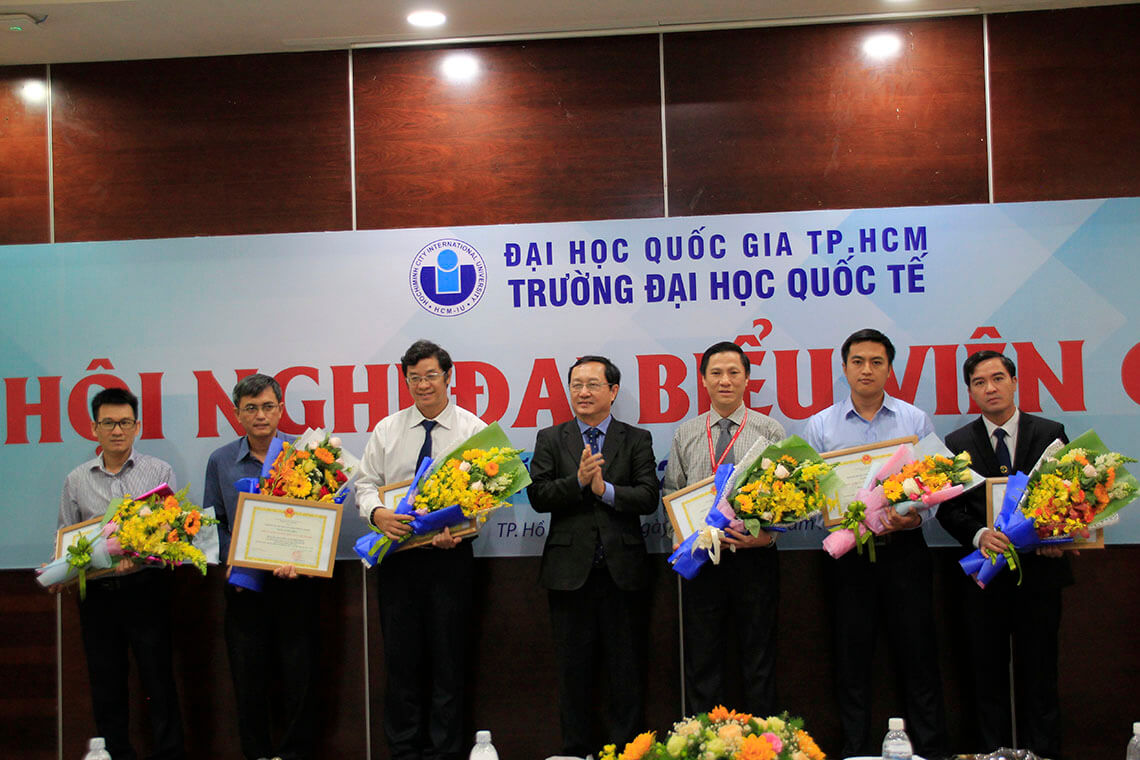 Faculty and staff members of International University is being awarded for outstanding performance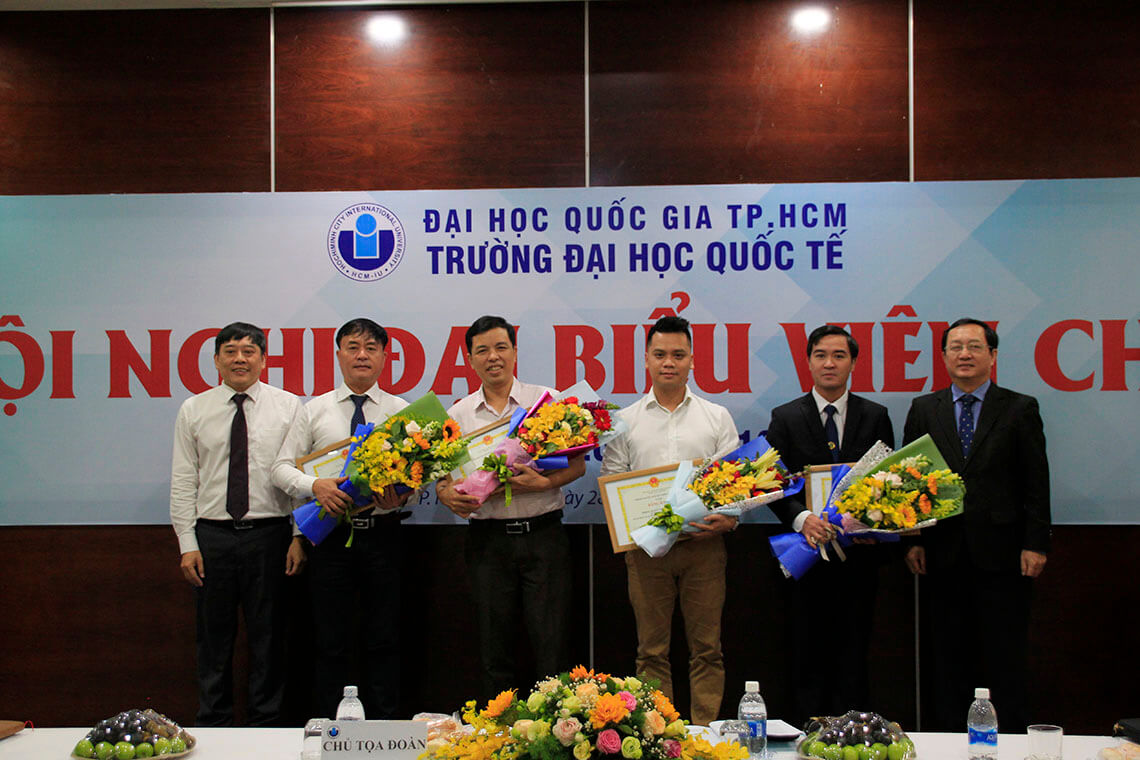 Assoc. Prof. Huynh Thanh Dat, Director of VNU-HCM, and Dr. Tran Tien Khoa, Rector of International University, is presenting Certificates for 4 outstanding units
In 2018, International University successfully carried out the marketing and recruitment counseling activities. In addition to the close collaboration and participation in the career counseling day organized by prestigious news agencies like Tuoi Tre and Thanh Nien, IU has successfully held the Information Day 2018 and the demo Scholastic Aptitude Test with more than 4,000 attendees. The Scholastic Aptitude Test was latter officially organized with more than 6200 attendees, reaching 94% attendance. Undergraduate and postgraduate trainngin also gained great achievements with many students getting high awards (06 students have received scholarships from partner universities with a total value of 57,500USD). International University is also among the top-ranking universities in the whole city and within VNU-HCM in term of " Sinh vien 5 tot" award.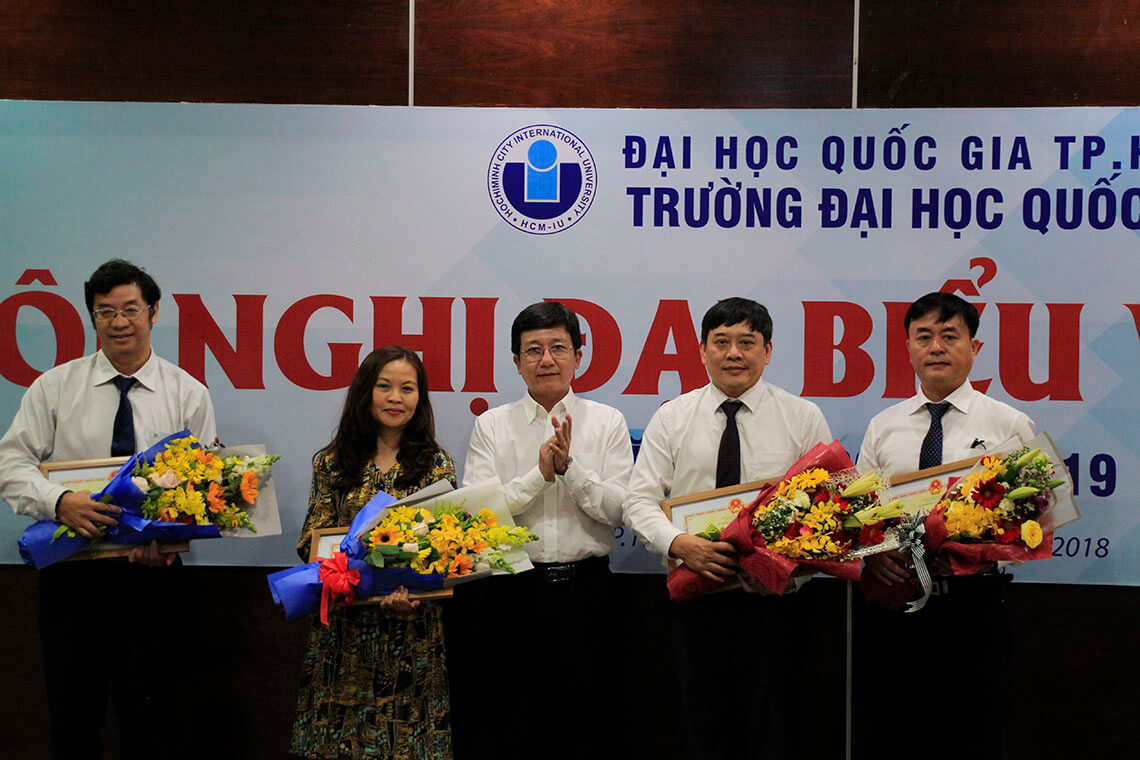 Individuals with great achievements are being awarded by the Director of VNU-HCM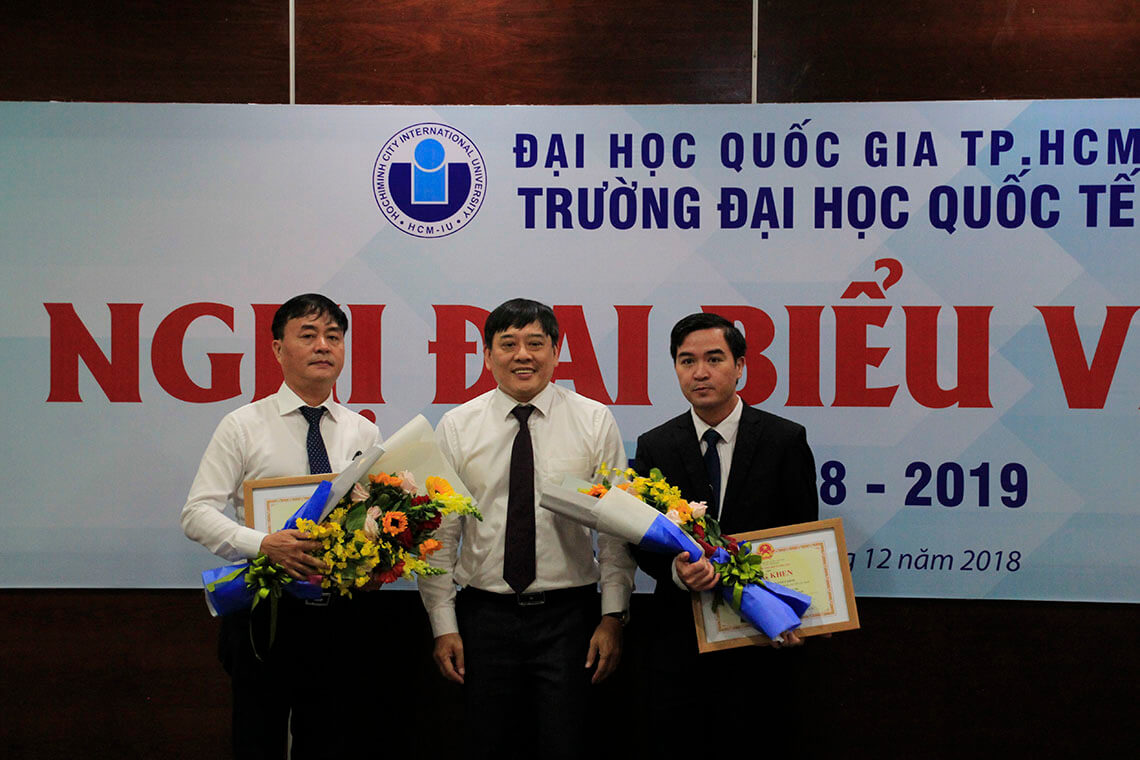 Dr. Tran Tien Khoa, Rector of International University, is presenting the Ministry of Education and Training's Certificate for 2 outstanding units in 2017-2018 school year: the School of Biotechnology and the Office of Human Resources
In the 2017-2018 school year, IU welcomed nearly 100 international delegations to visit and work. In addition, international students have also come to IU study for credits under the student exchange program from partner universities various in countries worldwide such as the United States, Denmark, Spain, Japan and Korea. International University has also organized and co-organized 7 national and international conferences and seminars in various fields, cooperating with prestigious partners in fields of Biotechnology, Biomedical Engineering, Industrial and Systems Engineering.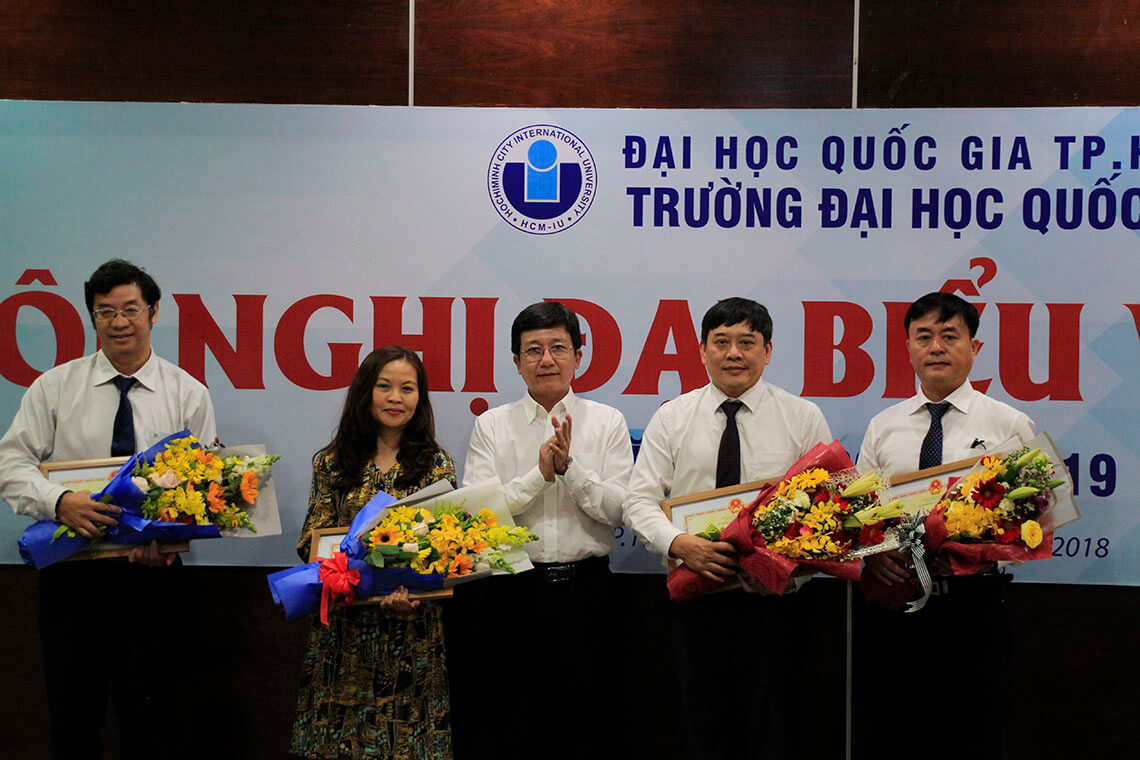 Mr. Lam Tuong Thoai, President of the Labor Union, Head of the Department of Remuneration and Reward – VNU-HCM, is presenting the Ministry of Education and Training's Certificate for individuals with outstanding achievements in 2017-2018 school year.
International University also regularly conducted maintenance activities, repaired and protected the buildings against degradation, upgraded the canteen to ensure a friendly environment within the campus. International and specialized learning and teaching materials are also constantly updated at IU's library. Many team-building and educational activities for students as well as faculty and staff members have been continuously organized, including activities such as field trips, soft skills classes, Job Fair – attracting thousands of students and nearly 100 businesses. Sport and musical activities are also organized for lecturers and students in celebration of the 15th anniversary of IU's establishment. Besides, International University also takes good care of its faculty and staff members with many meaningful activities on holidays and Tet annually. The university also carried out social tasks with practical contributions such as supporting flood victims in many regions and Vietnamese Heroic Mothers nationwide
The Department of People Inspection for term of 2019-2021 is also be voted
Closing a year of many achievements, attendees at the meeting have showed great determination to strive for more new achievements in the 2018-2019 school year. In the meeting, the units and individuals with outstanding achievements were awarded the Certificates of Merit by the Director of VNU-HCM and the Ministry of Education and Training.