International University held the conference on "Industrial Revolution 4.0 and Education"
On 8 Nov 2017, the conference "Industrial Revolution 4.0 and Education" was successfully held at International University, presented by Dr. Ho Thanh Phong, Rector of International University.
The conference has attracted many lecturers and staffs from member universities of Viet Nam National University Ho Chi Minh City and other universities to come and share interest. Alongside with general introduction on the Industry 4.0's history, definition and some breakthroughs in the industrial development that will change the way we live, work and communicate, Dr. Ho Thanh Phong shared some direct influences of the Industry 4.0 on every industrial fields.
As presented, smart tourisms and sharing economy have shown large contribution to many fields, including smart tourism, smart agriculture, smart cities with intelligent traffic system, smart healthcare and smart education.
In his presentation, Dr. Ho Thanh Phong spent much time presenting the close relation between the industry 4.0 and education, in which people, machines, equipment and the business are all connected, in order to create a customized education. Relating to this new concept, according to Dr. Phong, schools, leaners, curriculum and media will be transformed into smarter subjects, within an innovative startup ecosystem. Dr. Phong emphasized the creativity, value and trans-discipline of the curriculum, therefore, the teaching will be unbounded, and the ultimate outcome will be many innovators.
In the 4.0 education, EQ will be the essential skill for the youth. Dr. Phong also shared five actions to foster startup and innovation in this new revolution, including inspiring startup spirit within students, inspiring startup spirit within lecturers, encouraging technology transfer, fostering university-industry collaboration and promoting support for the locals.
Dr. Ho Thanh Phong also set the target for International University for the time to come, which becomes the smart university with flexible curriculum and teaching methodologies as well as integrating learners, equipment and software closely. Besides, the current services and managing system have to be improved to promote researching, technology transfer and start-up. Dr. Phong emphasized the core value must be maintained no matter what changes along the road. Therefore, in terms of education in the industry 4.0, the core targets of training, innovating and meeting social's need must be fulfilled.
At the conference, a model of 3D printer made by International University was introduced, which gained great interest from attendees.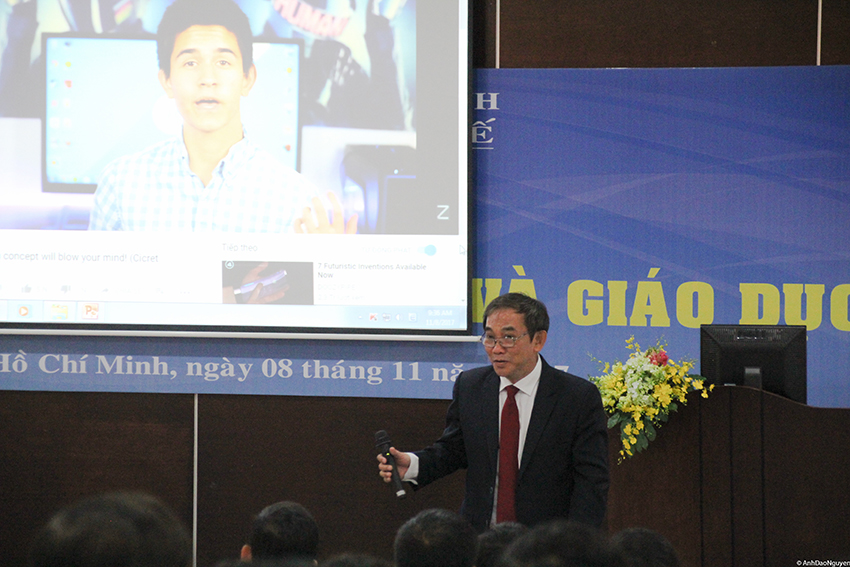 Dr. Ho Thanh Phong – the presenter of the "Industrial Revolution 4.0 and Education" conference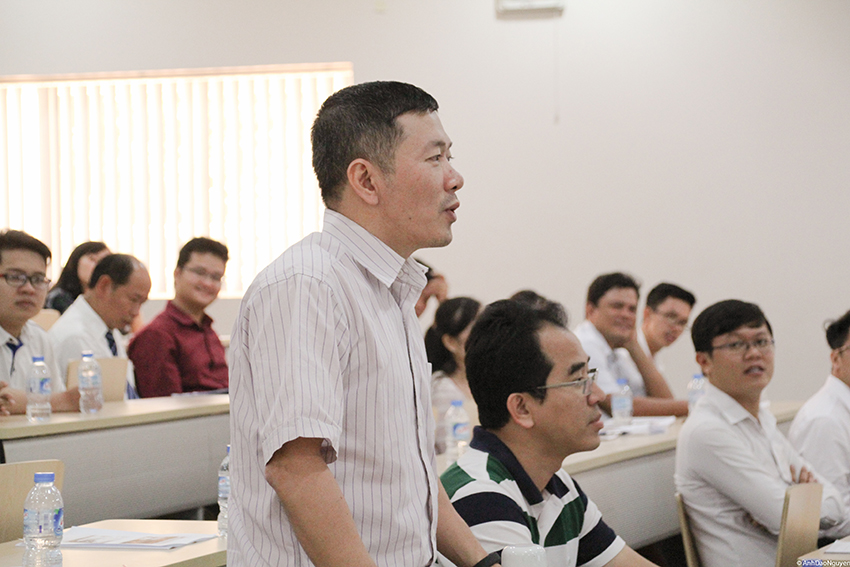 Assoc. Prof. Tran Manh Ha – Dean of the School of Computer Science and Engineering – shared his interest with the presenter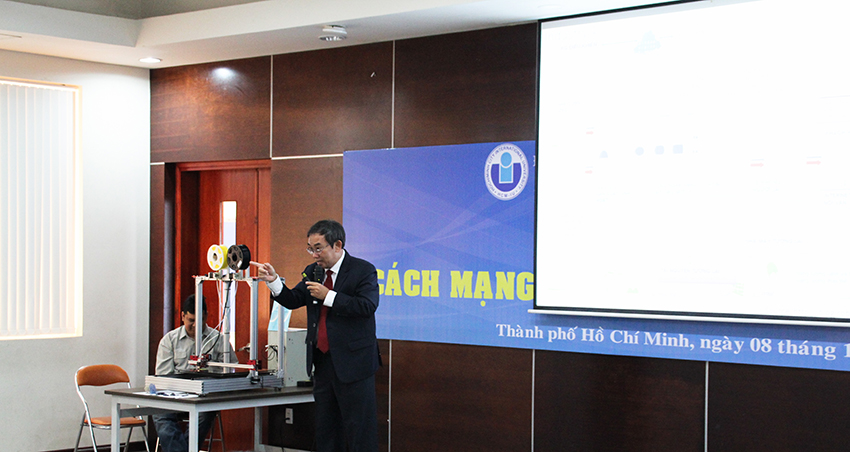 Dr. Ho Thanh Phong introduced the 3D printer made by International University
"Made in IU" 3D-printed models gained great interest from the attendees